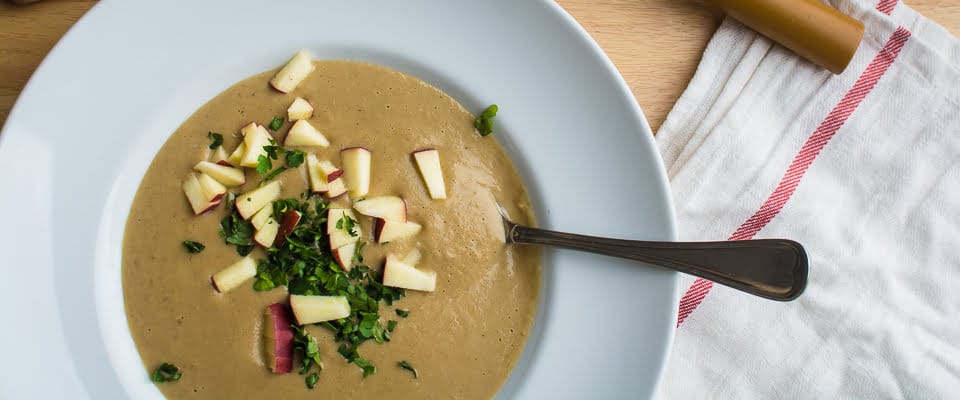 Root vegetables such as parsley and parsnip are probably the most underrated vegetables. They are not only suitable as part of soup vegetables but deserve to be the main ingredient themselves! Parsley root is not only very aromatic and well saturating, its ingredients also are said to have an immune-enhancing and antimicrobial effect, which can reduce the susceptibility to infection in the winter. If you want to upgrade the taste and vitamin content of this soup add a half chopped apple!
30 min
Ingredients per serving
200g parsley root (7 oz.)
½ red onion
1 clove of garlic
200g cottage cheese (7 oz.)
½ bunch of parsley
½ apple (if desired)
250ml water (8.5 fl. oz.)
1 teaspoon rapeseed or olive oil
salt, pepper
Preparation
Wash parsley root, cut in half lengthwise, cut in slices.
Skin onion and garlic, chop finely.
Heat up oil in a pot on middle heat.
Put parsley root, onion and garlic cubes into the pot, stir-fry for about 5 minutes.
Add water, let simmer for about 20 minutes.
Meanwhile, wash parsley leaves, pat or spin dry, chop them finely.
After the end of the cooking time, puree soup in a blender or with an immersion blender. Season with salt and pepper.
Serve soup in a deep plate, stir in cottage cheese, sprinkle with chopped parsley leaves and apple cubes, if desired.